Maryland NanoCenter
Facility Location
1119, 1237 & 2304 Jeong H. Kim Engineering Building.
Brief Mission
The Maryland NanoCenter is the hub of a network of interdisciplinary researchers, faculty, labs, and organizations with the goal of advancing the knowledge and understanding of all things nano.  We strive to deliver high quality tools, advice and service to the entire mid-Atlantic region research community. The University of Maryland, College Park, is home to a wide range facilities for experimentation in nano science and technology, nano-bio research, microelectromechanical systems (MEMS), microelectronics, optoelectronics, and other related systems – collectively referred to as the Maryland NanoCenter.  These laboratories are operated as shared experimental facilities, and as such are open to serve the research needs for both campus researchers and outsiders.  Users access these facilities on a fee-for-use basis once safety and equipment training have been completed.
Hours of Operation
7 AM to 5:30 PM; Monday through Friday, excluding University holidays
UMCP users only: 24 hours; 7 days a week access with staff permission
Services and Technologies Offered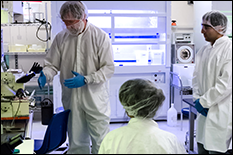 Our multipurpose Fabrication Laboratory facilitates research in nano and micro sized materials, devices, and circuits. Five experienced staff members work closely with our users. Open primarily to UMCP researchers, outside universities, government labs and small businesses are also very welcome.
Contact: Jim O'Connor (Deputy Director)
joconnor@umd.edu
(301)-405-5018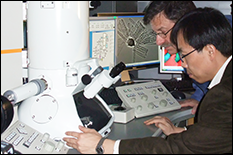 The Advanced Imaging and Microscopy Laboratory is dedicated to the characterization of the structure and composition of a broad spectrum of hard and soft materials and biological systems with nanometer resolution. The research performed in the laboratory is focused on the characterization of materials and structures in the areas of biomaterials, multifunctional and smart materials, nanostructured materials, nanodevices and geological materials.
Contact: Wen-An Chiou
wachoiu@umd.edu
(301)-405-0541
Equipment Available
Contact
Gary Rubloff, Director
1128 Kim Engineering Building #225, College Park, Maryland 20742
Contact Email: rubloff@umd.edu
Contact Phone: 301-405-3011
Facility URL