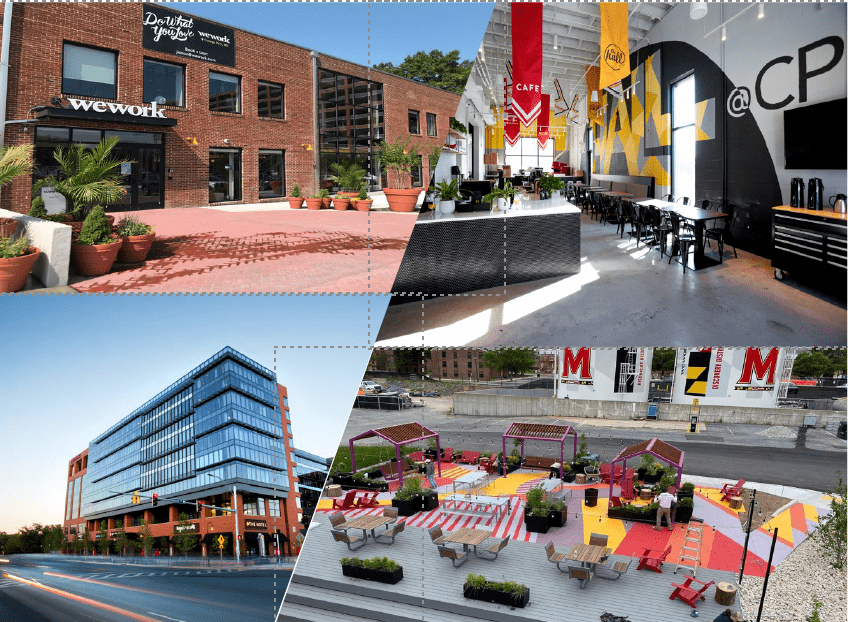 Comprising more than 150 acres on the eastern edge of campus, the Discovery District is a dynamic research park that brings together a vibrant and inclusive community of university stakeholders, corporate partners, government researchers, entrepreneurs, and local residents.
Being the epicenter of academic, research and economic impact, the Discovery District is the perfect home for innovative and research-focused organizations no matter what size.
Within the research park, fearless ideas are activated for transformational impact by fostering research and industry partnerships, supporting small businesses, and nurturing the growth of next generation technology ventures.
Quick facts about the Discovery District:
Home to 60+ companies & organizations including:

Federal Agencies: FDA, NOAA, USDA, and IARPA
Fortune 500 Companies: Capital One, Adobe, and Raytheon
Small Business Support: Apex Accelerator, SBDC, and VBOC
University Research Centers: ARLIS, ESSIC, JIFSAN, NFLC, and START
University-affiliated Startups: Airgility, IonQ, Medcura, and VisiSonics

More than 6500 people are employed in the research park.
Situated strategically between Washington, DC and Baltimore.
The research park is within a ten mile radius of dozens of federal laboratories, government agencies, international embassies, policy institutes and international media outlets.
For more information, contact Discovery District Manager Sammy Popat at spopat@umd.edu or 301-704-7789.