Grand Challenges: Water Emergency Team
Community-Driven Rapid Response to Sanitary Sewer Overflows, Household Backups, and Environmental Contamination

Summary:

Exposure to raw sewage from failing infrastructure can lead to negative health outcomes, distress, and feelings of disenfranchisement, particularly in marginalized urban communities. Sanitary sewer overflows (SSOs), the release of untreated sewage from a municipal sewer system, affect several cities around the world, with as many as 75,000 occurring each year in the United States. Baltimore experiences frequent SSOs and household basement backups due to aging and failing sewer and stormwater infrastructure. As a result, communities are persistently exposed to raw sewage, likely containing waterborne pathogens and possibly antibiotic-resistant (AR) bacteria. While AR bacteria have been identified in wastewater at wastewater treatment plants, no studies have comprehensively evaluated exposure to these pathogens from SSOs or backups, nor the impact of physical damage to the home and infrastructure on communities. This project addresses these knowledge gaps by developing a community-driven rapid response Water Emergency Team (WET) to respond to SSOs and backups in underserved African American communities in Baltimore and the surrounding region. WET will complete visual household inspections, conduct residential surveys and interviews about impacts and experiences with these events, collect water and surface swab samples from impacted indoor areas, and analyze samples for AR bacteria, reporting results back to the community. WET will work directly with community organizations and neighborhood associations throughout the project, including translating research findings into an outreach program with the goal of empowering affected communities and informing local policymakers. Climate change will only continue to stress the U.S.'s crumbling infrastructure, disproportionately impacting marginalized communities exposed to raw sewage. The Water Emergency Team has the expertise, experience, and community partnerships to address these issues, bringing national attention and visibility for the university and communities alike.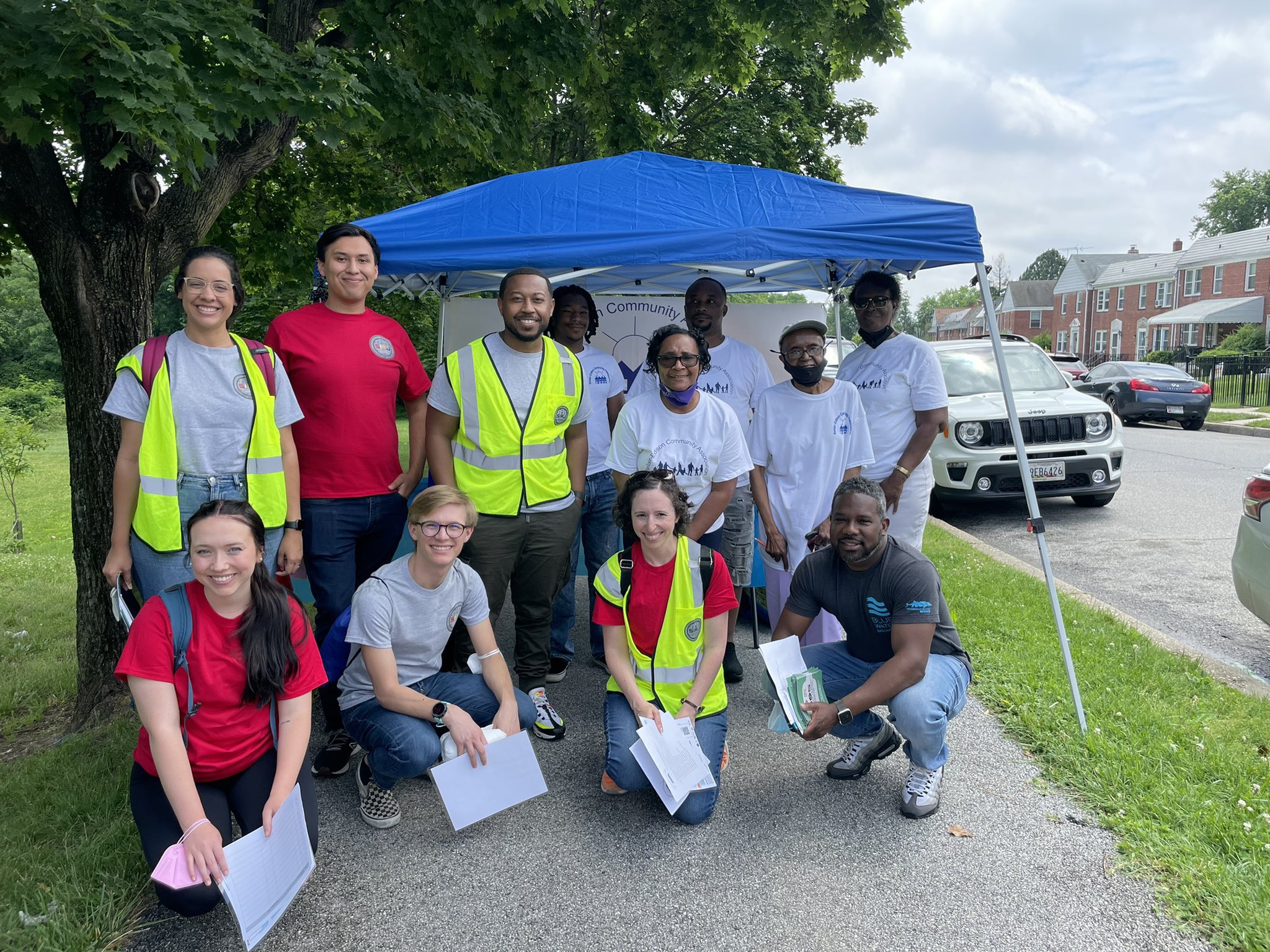 Photo caption: The project team and community members conducting a pilot study during the Summer of 2022.
| | |
| --- | --- |
| PI: Rachel Goldstein (SPHL), Assistant Professor, Maryland Institute for Applied Environmental Health | PI: Marccus Hendricks (ARCH), Associate Professor, Urban Studies and Planning, Director of the SIRJ Lab |
Where is WET Now?
Events:
Thursday, September 7, 2023
Belair-Edison Community Association Monthly Meeting
Friday, September 8, 2023
UMD First Look Fair
Tuesday, September 12, 2023
No Boundaries Coalition Monthly Membership Meeting
5:30pm-8:00pm
Thursday, September 14, 2023
Belair Edison Back to School Night
Thursday, 4:00pm - 7:00pm
Saturday, September 16, 2023
Love Groove Music Festival
12:00pm-7:00pm
Sunday, September 17, 2023
Irvington Community Farmers Market
8:00am-2:00pm
Sunday, September 24, 2023
Irvington Community Farmers Market
8:00am-2:00pm 
Saturday, October 14, 2023
NewERA Baltimore Community Day 
Thursday, November 9, 2023
Black Health Equity Summit
News:
Priscila Alves Presents at Community Forum, Environmental Justice and You: Stormwater Management at the Mount Rainier Nature Center for Her Talk Titled "Connections Between Environmental Justice, Climate Resilience, and Stormwater Management" (October 7, 2023)


 
Follow Us on Social Media: