University of New South Wales
About the University of New South Wales: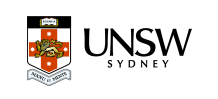 The University of New South Wales (UNSW) is an Australian public research university located just outside of Sydney suburb of Kensington. Established in 1949, it is regarded as one of the world's leading universities. The university comprises nine faculties, through which it offers bachelor, master and doctoral degrees. The main campus is located on a 94-acre site about 4 miles from the Sydney central business district. UNSW is one of the founding members of the Group of Eight, a coalition of Australian research-intensive universities, and of Universitas 21, a global network of research universities. It has international exchange and research partnerships with over 200 universities around the world.
About the Partnership:
The University of Maryland (UMD) and the University of New South Wales (UNSW) are both members of the Universitas 21 global network, and are working together through U21's Researchers Collaborators Group to develop a closer relationship. UMD has also hosted a visiting research administrator from UNSW through an administrative exchange program.