Grand Challenges: Maryland Initiative for Literacy & Equity (MILE)
Summary:

A large proportion of the students who graduate from our public schools face barriers that prevent them from reading and writing at grade level. Achievement gaps in our schools systematically increase with the number of students living at or below the poverty line, coinciding with increasing segregation by race, ethnicity, and language background. This makes literacy achievement not just an educational issue, but one of equity and civil rights.
In the field of literacy, there is a global chasm between the science of language and literacy acquisition and the practice of teaching children how to read and write. Basic and translational research on language and literacy acquisition often overlooks or minimizes social and cultural contexts, leading to deficit perspectives toward culturally and linguistically diverse students, families, and communities.
The Maryland Initiative for Literacy and Equity (MILE) will harness research-to-practice partnerships in the fields of education, speech and language pathology, library sciences, policy, and community stakeholder outreach. These efforts are aimed at driving integrative research, both translational and basic, that is contextualized with respect to marginalized communities across race, culture, ethnicity, and language, as well as neurodiverse populations.
This initiative seeks to transform and integrate practices in education, speech pathology, library sciences, and parent/family engagement through streamlined and cutting-edge models of professional development and community outreach.
| | | | | |
| --- | --- | --- | --- | --- |
| PI: Donald Bolger (EDUC), Associate Professor, Human Development and Quantitative Methodology | Simone Gibson, Director, Responsive Literacy, School of Education and Urban Studies, Morgan State University | Colin Phillips (ARHU), Professor, Distinguished Scholar-Teacher, Linguistics, Director, Language Science Center | Jade Wexler (EDUC), Associate Professor, Special Education | Ebony Terrell Shockley (EDUC), Associate Clinical Professor, Executive Director |
| Jennifer Turner (EDUC), Associate Professor, Teaching and Learning, Policy and Leadership | José Ortiz (BSOS), Clinical Assistant Professor, Department of Hearing and Speech Sciences | Maggie Peterson (EDUC), Assistant Clinical Professor, Teaching and Learning, Policy and Leadership | Elizabeth Bonsignore (INFO), Assistant Research Scientist, Information Studies | Rochelle Newman (BSOS), Professor and Chair, Department of Hearing and Speech Sciences |
| Juan Uriagereka (ARHU), Professor, School of Languages, Literatures, and Cultures, Dept. of Linguistics | Kira Gor (ARHU), Professor, School of Languages, Literatures, and Cultures | Jennifer Littlefield (SPP), Lecturer, Director of Undergraduate Studies, Public Policy | Shanna Pearson (SPP), Professor and Associate Dean of Faculty Affairs, Public Policy | Brandi Slaughter (SPP), Associate Clinical Professor, Public Policy |
| Melinda Martin-Beltran (EDUC), Associate Professor, Teaching and Learning, Policy and Leadership | Drew Fagan (EDUC), Associate Clinical Professor, Teaching and Learning, Policy and Leadership | Eliza Thompson (BSOS), Assistant Clinical Professor, Department of Hearing and Speech Sciences | Ayanna Baccus (EDUC), Associate Clinical Professor, Teaching and Learning, Policy and Leadership | Nan Bernstein Ratner (BSOS), Professor, Department of Hearing and Speech Sciences, Director of Graduate Studies, Neuroscience and Cognitive Science Program |
| Christy Tirrell-Corbin (EDUC), Clinical Professor, Human Development and Quantitative Methodology | Susan De La Paz (EDUC), Professor, Special Education | Jason Chow (EDUC), Associate Professor, Special Education | Jeff MacSwan (EDUC), Professor, Teaching and Learning, Policy and Leadership | Kellie Rolstad (EDUC), Associate Professor, Teaching and Learning, Policy and Leadership |
| Rachel Romeo (EDUC), Assistant Professor, Human Development and Quantitative Methodology | Ana Taboada Barber (EDUC), Professor and Associate Dean for Research, Innovation and Partnerships | Veronica Kang (EDUC), Associate Professor, Counseling, Higher Education, and Special Education | Shevaun Lewis (ARHU), Assistant Research Professor and Assistant Director, Language Science Center | |
Partnerships:
Morgan State University
Prince George's County Public Schools
Montgomery County Public Schools
Howard County Public Schools
Baltimore City Schools
Maryland Speech & Hearing Association
News:
September 21, 2023
 
March 28, 2023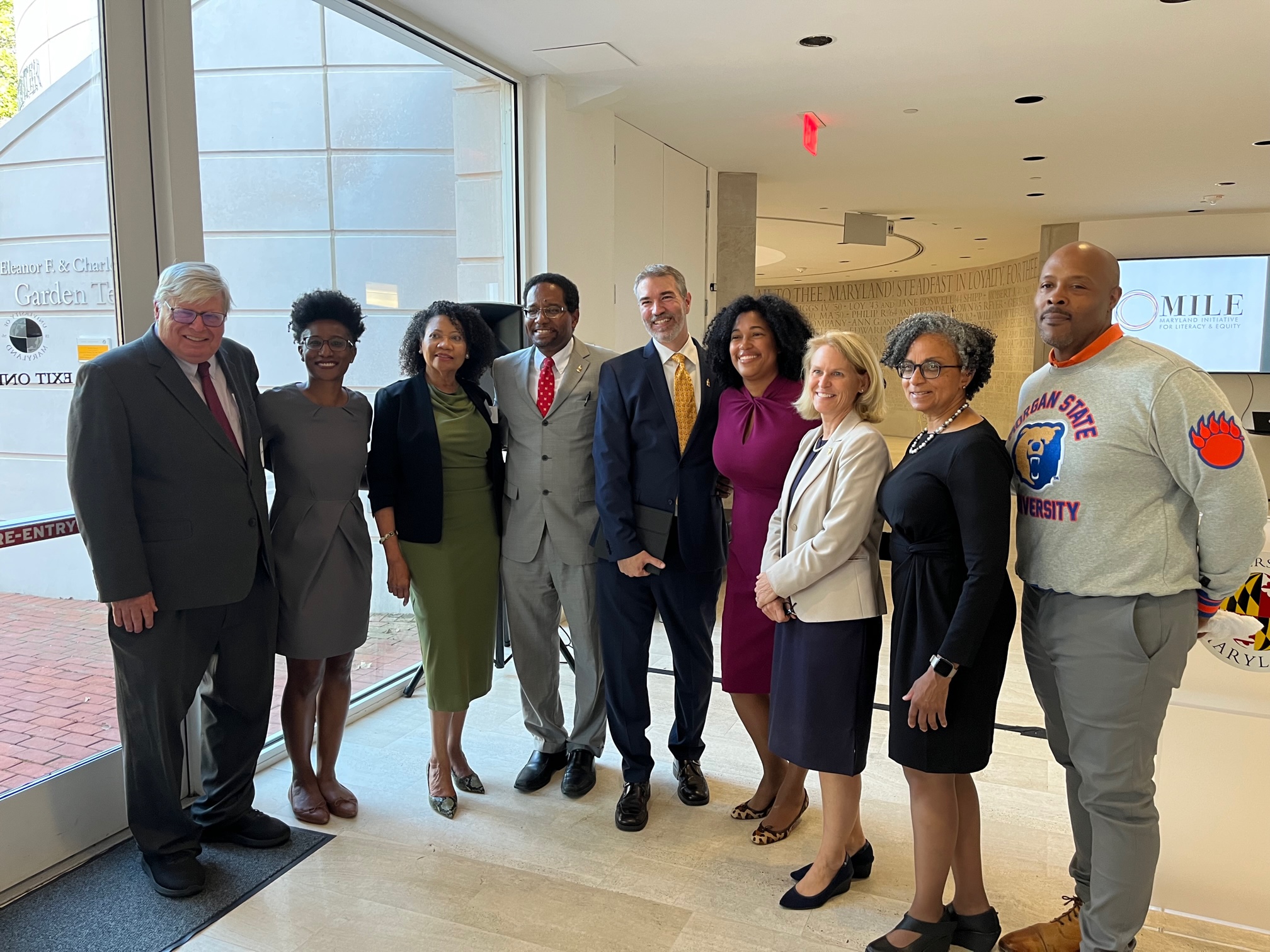 Photo from MILE Launch Event, September 20, 2023