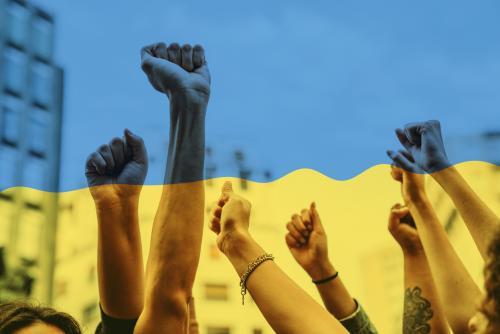 A new report by Department of Government and Politics Professors Shibley Telhami and Stella Rouse reveals how Americans' attitudes about the war in Ukraine have changed, as well as the demographic factors that may be accounting for the change—with a particular emphasis on the increasing partisan divide from March to May 2022.
"By May, we saw that Americans were not only showing signs of fatigue surrounding U.S. involvement in the war but that there was growing partisanship," Professor Telhami, the Director of the University of Maryland's Critical Issues Poll, noted. "The decrease in willingness to incur costs from March to May, such as tolerating higher energy prices and increased inflation, was higher among Republicans than Democrats."
Partisanship was, indeed, hard to miss: Looking at the public's reaction to the U.S. response to Ukraine, Republicans were much more favorable when ranking actions taken by the "United States" than when asked to rank those same actions but taken by the "Biden Administration." In comparison, Democrats' views barely changed regardless of the actions being specifically tied to the Biden administration or not. 
In addition, when asked to identify the most disliked national or world leader during the March 2022 poll, Democrats listed Putin (56%) and then Trump (31%) as their first choice, but Republicans were more likely to list Biden (49%) than Putin (23%).
As for what could be contributing to the growing divide between Republicans' and Democrats' support for the war, Telhami and Rouse's latest analysis identified a few factors.
Among them was the respondents' preferred media outlet. Since March, those who said they primarily watch Fox News have significantly decreased their support for the United States incurring various costs of war, while the respondents who said they primarily watch MSNBC or CNN have higher levels of support for incurring such financial costs.
"The context in which Americans receive information about Ukraine affects their level of support for the war effort. We live in a fractured and partisan media environment where media outlets distill information in ways that confirm individuals' existing attitudes. This makes it difficult to sustain long term support for a cause that requires continued sacrifices," said Rouse. 
Other factors identified by the researchers were race and income. Regarding the former, in March, Black respondents were more willing than the average to pay the costs associated with helping Ukraine, but in May, support among Black respondents for actions that would potentially increase energy prices, inflation, and result in the loss of U.S. troops decreased. And with respect to the latter, for example, "we found that from March to May, Americans in lower income brackets had a larger decrease in willingness to incur the financial costs of supporting Ukraine than those who had a higher household income," Telhami said.
To read the full report, click here. To read more about the March Critical Issues Poll on this topic, click here. To read more about the May Critical Issues Poll on this topic, click here.
Photo by FilippoBacci provided by iStock.