In November of 2022, University of Maryland, College Park President Darryll J. Pines and University of Maryland, Baltimore President Bruce E. Jarrell named six professors to the second cohort of MPower Professors. This award from the University of Maryland Strategic Partnership: MPowering the State (MPower) recognizes, incentivizes, and fosters collaboration between faculty from each campus who are working together to solve the grand challenges of our time.
Selected for her commitment to interdisciplinary and interprofessional collaboration, University of Maryland, Baltimore (UMB) Professor Mary Ann Jabra-Rizk holds dual appointments in the School of Dentistry's Department of Oncology and Diagnostic Sciences and the School of Medicine's Department of Microbiology and Immunology. Dr. Jabra-Rizk has a broad background in investigating the virulence factors in the opportunistic fungal pathogen Candida albicans, and the host and pathogen factors that play a role in the transition between colonization and infection. Her lab has several ongoing projects pursuing different aspects of the Candida pathogenesis, including biofilm formation, drug resistance, and fungal-bacterial interactions in biofilm.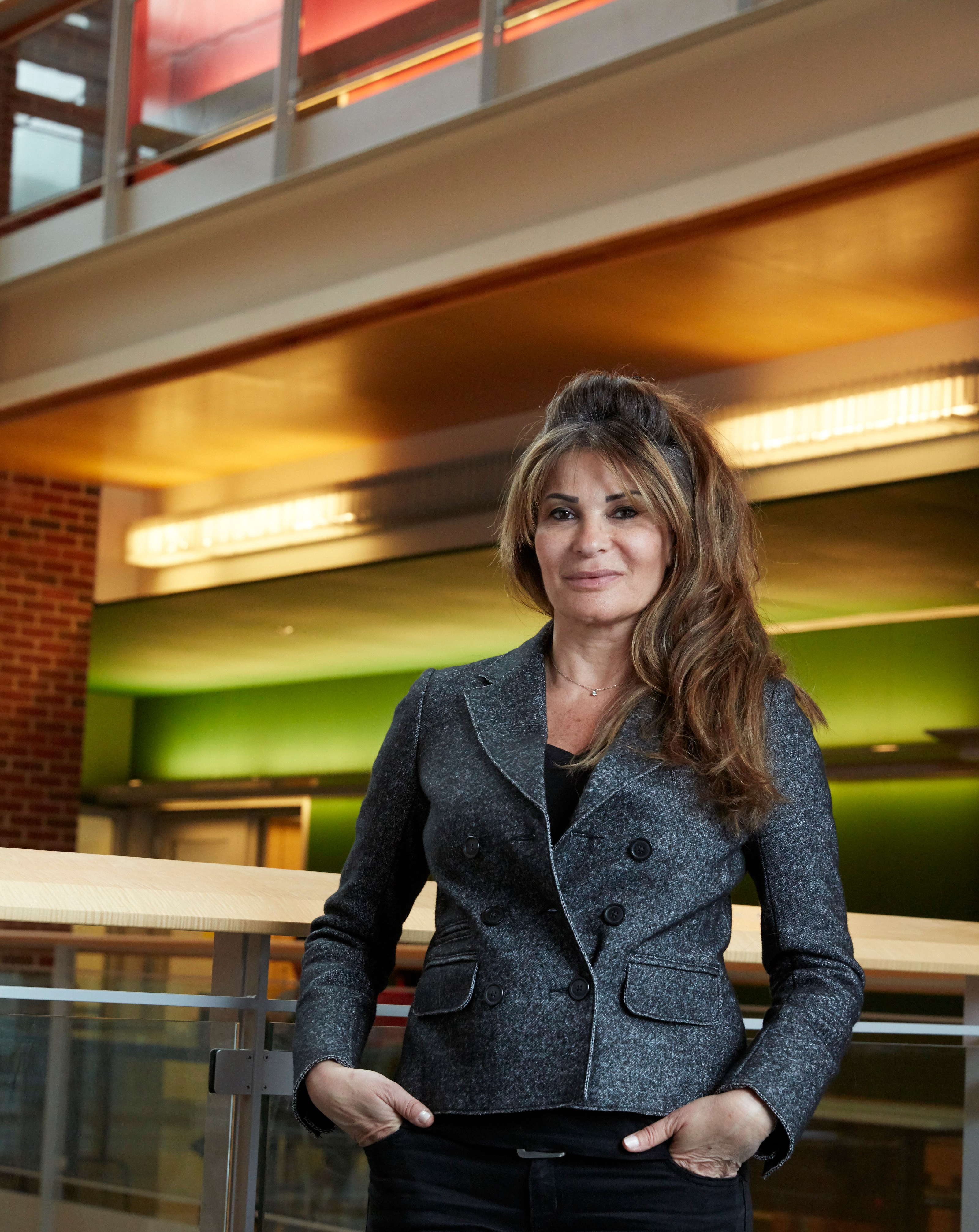 Can you briefly explain the type of research you do?
I am a microbiologist and my main area of expertise is fungal pathogens. My research is basic as well as translational in nature involving the use of animal models. We also conduct clinical studies using various patient populations.
What drives you to do this research? 
Infectious diseases remain the main cause of mortality and morbidity globally. New microbial pathogens are constantly emerging, most recently exemplified by SARS-CoV-2, the virus which causes COVID-19. However, a new fungal species has also recently emerged as a potentially devastating pathogen that is garnering significant attention from the CDC and WHO. In fact it is now considered among the top public health threats worldwide. This novel species, called Candida auris, is the main focus of research in my lab. Specifically, we are interested in understanding the reasons behind its sudden global emergence and the factors that allow it to develop multi-drug resistance and cause outbreaks in hospital settings. Another ongoing project aims to investigate the effect of SARS-CoV-2 infection on the physiology and health of the oral cavity, and the impact of the virus on the oral microbiome. My lab recently received an NIH grant and UMB ICTR award to fund the project. Understanding microbial pathogens and how to combat them and develop novel therapeutic strategies has always been my passion and the focus of my work.
How do you gather data or conduct studies for your research? 
The research in my lab involves conducting in vitro and in vivo studies using different rodent models of infection. We also perform clinical studies where patient samples are analyzed in the lab. We utilize various Cores—centralized shared resources and facilities for researchers— available to us on campus. For example, the Electron Microscopy Core (EMC) allows us to perform different kinds of imaging. We also frequently use the services of the Institute of Genome Sciences at UMB for transcriptional studies analyzing gene expressions, as well as to conduct microbiome studies for profiling the oral microbial populations. Another Core we use is the Cytokine Core Laboratory (CCL), among others.
What did it mean to you personally to be named an MPower Professor?
When I was informed by Dr. Jarrell, I was surprised and deeply honored. I believe that success in science depends on collaborations and I take pride in my collaborations with scientists all over the world, particularly those with faculty from the College Park campus. The recognition by University of Maryland leadership and my peers is empowering, and I am immensely grateful.
How do you collaborate with researchers outside of your discipline?
The main collaborations outside my discipline are with scientists on the College Park campus. Two projects I was interested in required expertise in biotechnology and engineering. As a microbiologist, I would not have been able to accomplish these projects without the expertise of the College Park faculty I reached out to, seeking collaborations. These interdisciplinary projects between the two campuses were highly successful, resulting in published papers, NIH grants, and importantly, an awarded U.S. patent. 
Why is this collaboration important to you?
I wholeheartedly believe that collaboration is what drives science and leads to meaningful scientific discoveries, and therefore all of my projects involve collaborations with colleagues nationally and internationally. The Candida auris project involves collaboration with a colleague at the University of Leuven in Belgium, a longstanding partnership which has resulted in numerous publications and two NIH grants. The COVID-19 project involves collaborations with clinical faculty at the UMB School of Dentistry and School of Medicine, and two further projects involve collaborations with faculty at College Park.
Please name the researchers you have worked with on MPower collaborations:
Dr. Ryan Sochol (University of Maryland, College Park - Fischell Department of Bioengineering)

Dr. Amy Karlsson (University of Maryland, College Park - Fischell Department of Bioengineering)
How do the funds awarded from MPower support your research and help facilitate collaborations with other researchers?
I am currently using the funds to purchase lab equipment that needed updating, and to support travel for myself and my students and postdocs to scientific meetings where we can present our research. 
What are the next steps for your research? 
We are focusing primarily on accomplishing the aims of the projects we are currently working on, which are primarily funded by the NIH. However, we are always interested in expanding on our projects to explore other areas within our field of research that involve collaborations on national and international levels. We strive to disseminate our findings through publications and presentations, and continue to seek additional funding in support of our work.