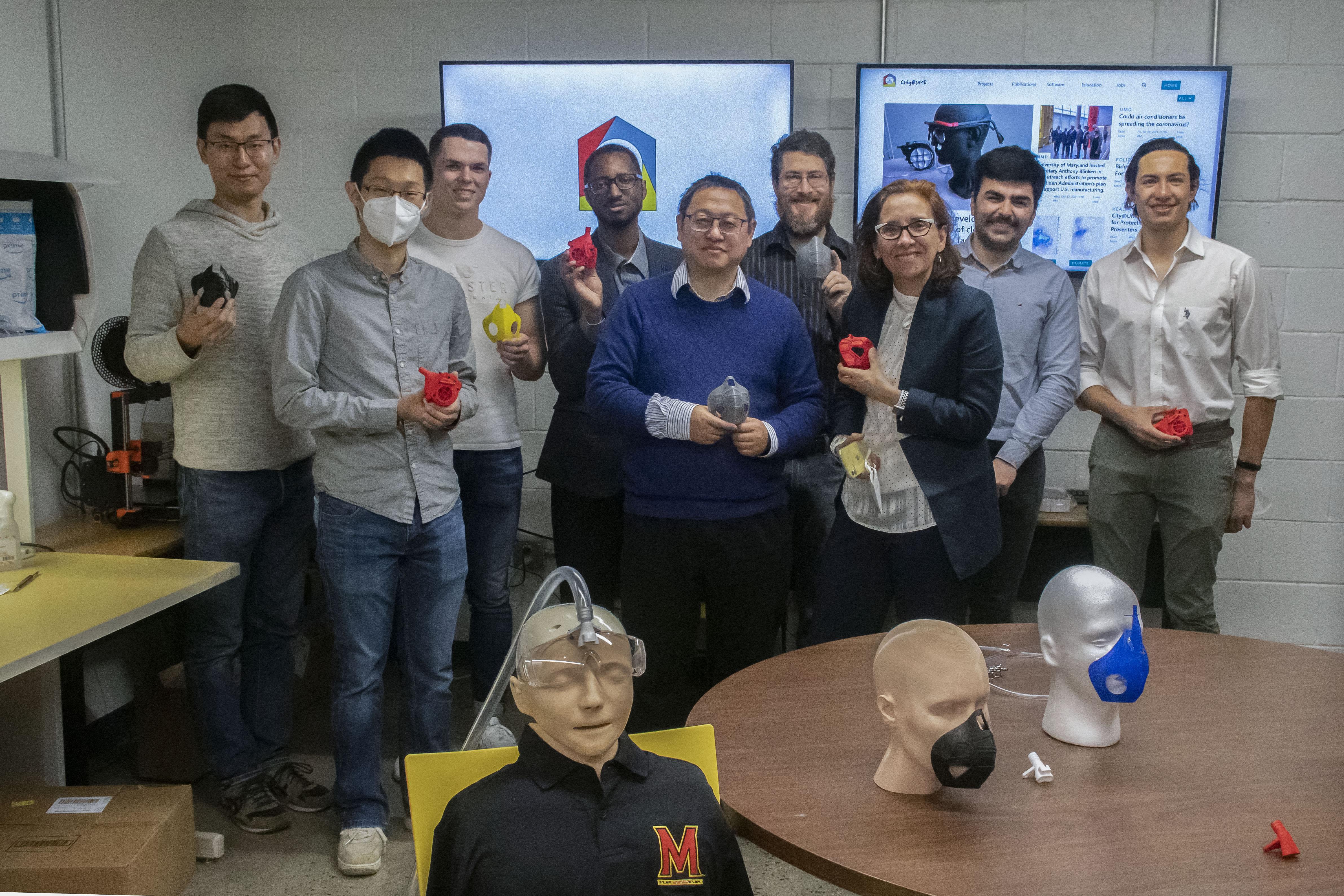 As new variants emerge and surges of disease continue to ebb and flow, the COVID-19 pandemic has highlighted the importance of clean air. Invisible, airborne particles can impact the lives of billions in highly significant and consequential ways, spreading infection despite multiple rounds of vaccination. As the pandemic persists, personal protective equipment (PPE) like face masks remain crucial for protection against the virus by reducing exposure to this particulate matter. However, loose-fitting masks often prove ineffective at preventing infection while well-fitting masks place stress on the wearer's respiratory system by requiring additional work to push air through the masks' filtration system.
A team of researchers at the University of Maryland's Center for Sustainability in the Built Environment (CITY) led by Jelena Srebric, Margaret G. and Frederick J. Kohloss Chair of Mechanical Engineering, have developed an alternative to traditional PPE: a wearable micro-air cleaner complete with a micro-fan and sensors to allow for safety, comfort, and fit during prolonged use. 
The device is constructed as a battery-operated, packaged unit, with integrated goggles fitted with an airflow system that contains both coarse and high-efficiency particulate air (HEPA) filters to catch airborne particles and directly supply clean air to the wearer. The device also features a sensor that measures the pressure, CO2 level, humidity, and temperature around it to provide a secure but comfortable fit, with pressure increased inside the breathing zone. When the pressure inside the device becomes too high, the HEPA filters are replaced to provide adequate local air supply. 
The researchers' invention has a number of benefits over other types of PPE like N95 respirators and surgical masks. The sensors housed within the device guarantee a comfortable fit that is still adequate to protect the wearer from bioaerosols and airborne pollutants, while the dedicated air supply mitigates thermal discomfort and breathing difficulty by relieving stress on the respiratory system. Additionally, all parts of the device—including filters—can be sterilized with ultraviolet (UV) light after each day of use, so it can be used continuously for longer durations than traditional PPE. 
Srebric and her colleagues at CITY—Shengwei Zhu, Nicholas Mattise, Sebastian Romo, Lingzhe Wang, Avery Layne, and Nicholas Rabchevsky—were funded by the Centers for Disease Control and Prevention (CDC). They were motivated to create the device as a response to the urgent need for improved PPE, and hope that their wearable micro-air cleaner will be supplied to healthcare and laboratory workers, as well as workers in high-density and congregate workplace settings like correctional facilities and manufacturing and processing centers. 
The researchers' invention, "Wearable Micro Air Cleaner for Respiratory Health" was recognized as a finalist for a UMD Invention of the Year award in the Physical Sciences category. An awards ceremony was held on May 3, 2022, at Innovate Maryland, a campus-wide celebration of innovation and partnerships at UMD.