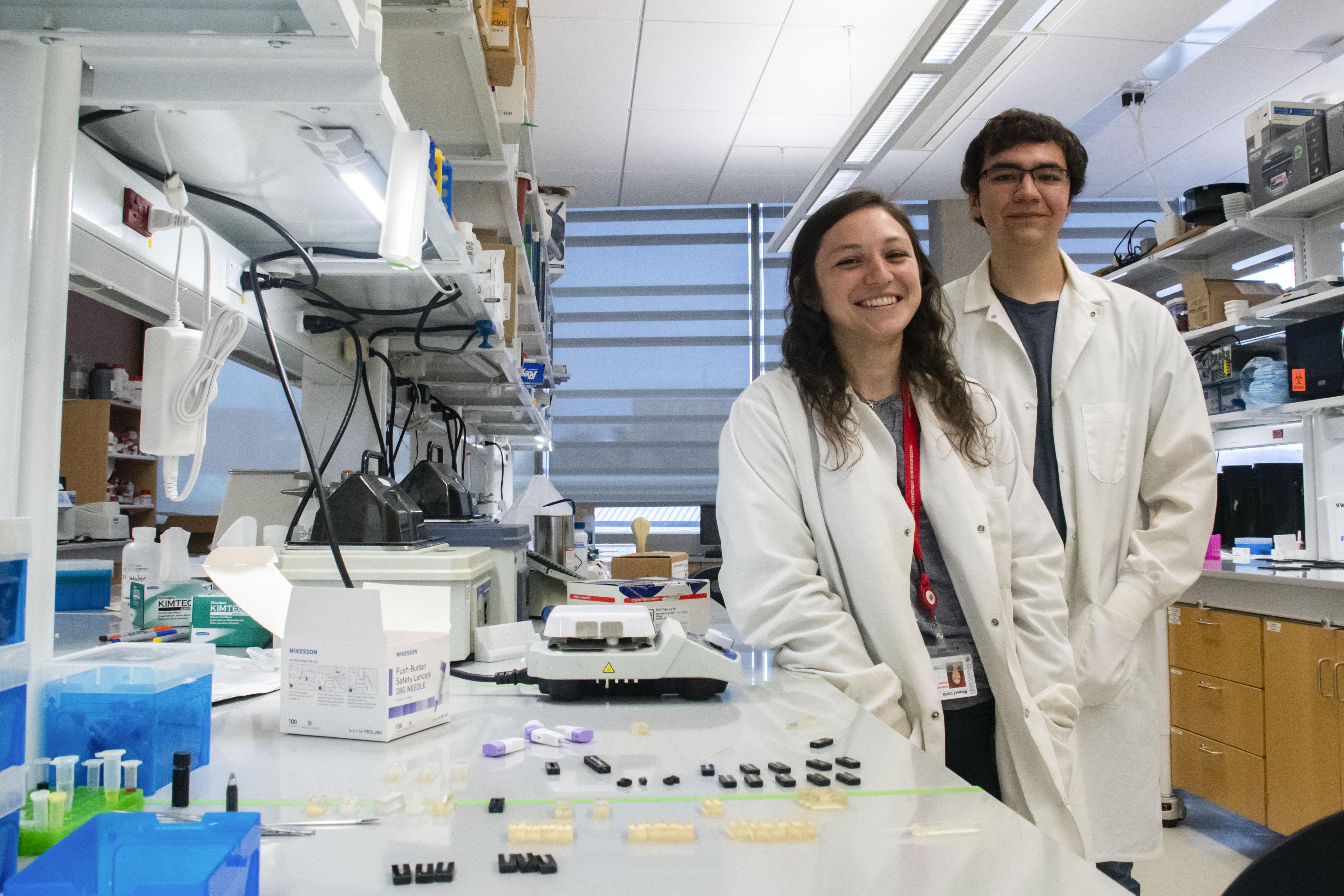 While the COVID-19 pandemic catalyzed innovation in at-home testing via rapid antigen​​ tests, these technologies are limited to a small number of diseases and are not suitable for more complicated sample types, such as blood. Currently, tests for viruses in blood must be performed in a sophisticated laboratory and thus generally require multiple days before results are delivered to patients. Bioengineering researchers at the University of Maryland (UMD) have invented a low-cost, rapid testing solution for blood-borne viruses at the point of contact with the patient, whether at home, a mobile clinic in developing countries, a walk-in urgent care center, or other settings. 
Ian White, associate professor in the Fischell Department of Bioengineering, and bioengineering Ph.D. students Micaela Everitt and David Boegner are working to build a fully automated point-of-care device to quantify biomarkers in blood. Similar to a personal glucose meter, the platform will be simple to use and will enable diagnostics from finger-tip blood samples for blood-borne viruses, such as Hepatitis C. 
With this device, all reagents—substances used to complete a lab test—are pre-loaded into a channel within a plastic cartridge and separated by wax partitions. When the device is warmed, the wax liquifies. Using an automated magnet adjacent to the cartridge, magnetic beads are used to capture molecular components from the sample and drag them through the liquified wax partitions, thus pulling the molecular components through the reagents to jumpstart biochemical detection reactions. The wax partitions can also be designed such that they are removed when liquified, enabling multiple reagents to be mixed within the cartridge automatically. This method of automation eliminates the precise measurements and manipulations that have tethered these sophisticated tests to laboratories.
The biochemistry of this invention works similarly to an ELISA, an assay performed in a central laboratory that requires several precise steps and takes several hours to complete. Numerous assays have been developed to work outside a lab, like a pregnancy test or rapid antigen test, but they are not optimized for whole blood and require sample preparation steps before use on whole blood. The UMD team's invention integrates sample preparation into the overall device, an improvement over existing assay technology. In the future, White, Everitt, and Boegner hope that their fully automated point-of-care device will be integrated into mobile clinic settings, and eventually, used by patients in their home. 
The team's research was funded in part by a National Science Foundation Graduate Research Fellowship that provided support for Everitt, and a National Institutes of Health (NIH) grant that provided support for Boegner. Their research has been published in ACS Applied Materials & Interfaces.
The researchers' invention, "Fully Automated Point-of-Care Diagnostics" was recognized as a finalist for a UMD Invention of the Year award in the Life Sciences category. An awards ceremony was held on May 3, 2022, at Innovate Maryland, a campus-wide celebration of innovation and partnerships at UMD.