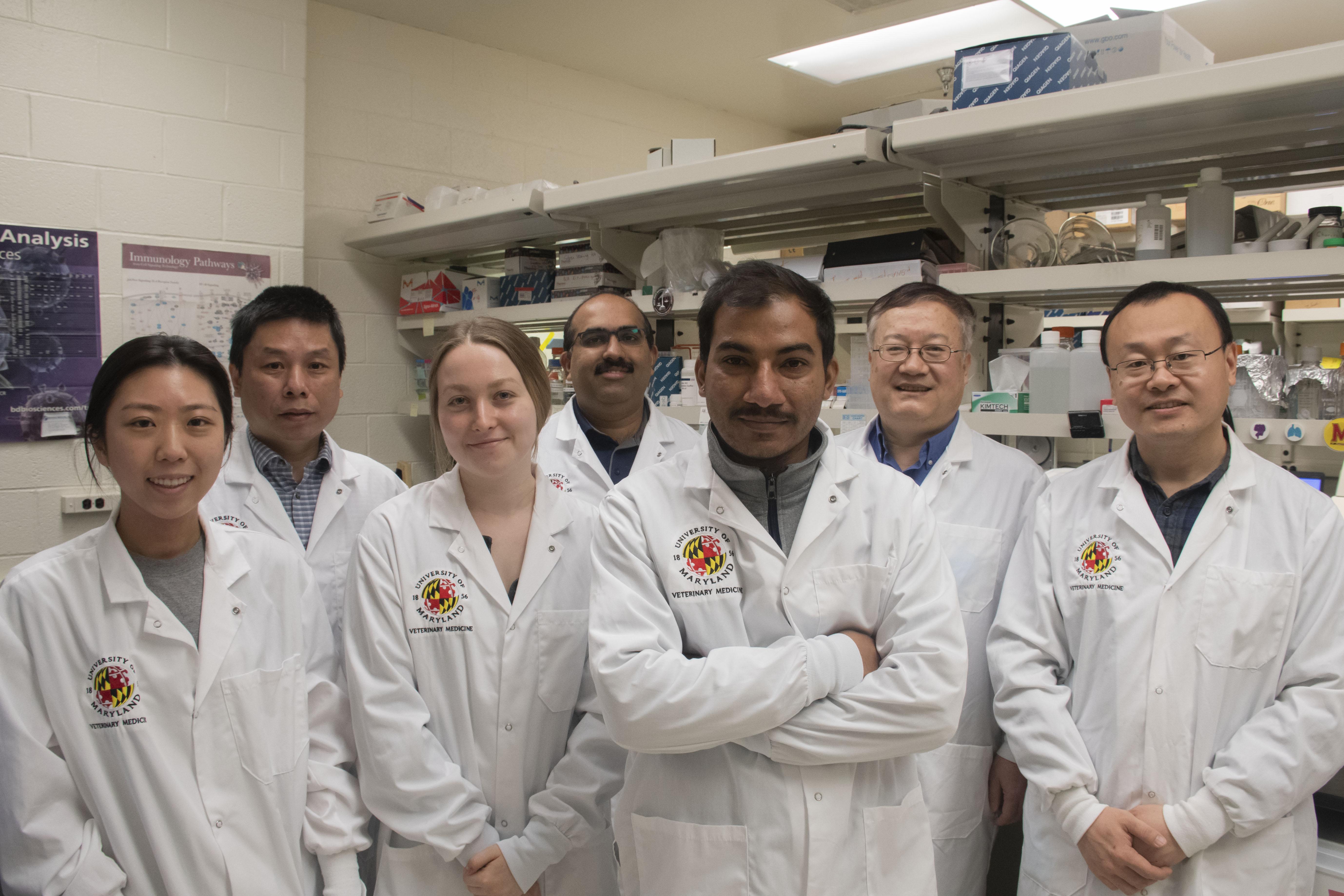 More than two years after the first identified case of COVID-19 and with over half the worldwide population fully vaccinated, an onslaught of breakthrough infections have left scientists wondering what more can be done to prevent transmission. Rather than improve on existing vaccination methods, researchers at the University of Maryland are looking to stop the spread of COVID-19 at its source–in the nose. 
SARS-CoV-2, the coronavirus that causes COVID-19, spreads primarily through respiratory droplets or aerosols. These droplets or aerosols are dispersed by a person infected with COVID-19 through coughing, sneezing, or close contact, and can in turn land in the noses or be inhaled into the lungs of nearby, uninfected or immunized people. While the currently authorized intramuscular vaccines are effective in preventing severe disease, hospitalization, and death due to COVID-19, they are not effective in blocking nasal infections and viral shedding. 
Xiaoping Zhu, professor, Weizhong Li, assistant research professor, and Tao Wang, faculty assistant, all of the Department of Veterinary Medicine at the Virginia-Maryland College of Veterinary Medicine and the College of Agriculture and Natural Resources at the University of Maryland (UMD), have developed a nasal protein vaccination strategy that seeks to fill the gaps left by intramuscular vaccination, efficiently stopping infection in the nose and lungs by SARS-CoV-2 and its variants of concern.
The researchers' mucosal vaccine, which is administered via a nasal spray, triggers the immune defenses and builds immunological memory in the nose and lungs where SARS-CoV-2 (COVID-19) enters the body. By inducing an effective protective immunity in the nose, it can exceed the capabilities of existing intramuscular vaccines by blocking viral shedding and transmission from person to person. 
In addition to the benefits against community transmission, UMD's nasal spray vaccine has some key advantages to aid in the fight against COVID-19. Because the vaccine is protein-based and non-invasive, it can be administered to all ages. It can immunize those who have not been previously vaccinated, or be used as a booster for those who have been previously vaccinated or infected. The stability of the vaccine antigens, low cost, and easy formulation would allow the nasal vaccinations to be implemented across the globe, and the platform characteristics of the invention would allow adequate protection against multiple existing and emerging strains of COVID-19, greatly benefiting worldwide public health. 
The researchers' invention, "Mucosal Vaccination Against 2019-nCoV Infection and Other Infections," was named a University of Maryland Invention of the Year in the COVID-19 Research category. The event was held on May 3, 2022, at Innovate Maryland, a campus-wide celebration of innovation and partnerships at the University of Maryland.